CDL A OTR Dry Van Owner Operator in OK, TX, MO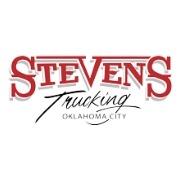 Apply to Stevens Trucking
Take the next step in your trucking career today! Complete our safe, secure, and fast application process and apply to Stevens Trucking! Once you've completed your driver profile you can apply to additional truck driving jobs with a single click!
Apply Now!
Sign In to Apply
About This Job at Stevens Trucking
Family owned and operated for over 40 years, Stevens Trucking is leasing on Owner Operators to haul no-touch dry-van freight to our customers located throughout  the Midwest (Michigan, Ohio, Indiana, Illinois), the South (Alabama, Georgia, Tennessee), and Texas. 85-90% of loads are no-touch, and drivers from Oklahoma can expect to be home ever 6-10 days. We have loads to accommodate your needs and desired home time.
Headquartered in Oklahoma City, OK, we also have drop yards located in St. Louis, MO, Dallas, TX, Houston, TX, and Tulsa, OK. Drivers who live in these areas can expect more frequent home time!
NEW PAY PACKAGE & SCHEDULES TO FIT YOUR NEEDS!
Compensation
Average weekly pay: $4,000 per week

Base pay: $1.14 CPM with an average of 3,000 miles weekly 
Additional Pay: layover pay, stop pay, and 34 hour reset on the road pay, detention pay $35.00 per hour after 2 hours
All miles paid, loaded and unloaded 
Bonuses include:

Quarterly Fuel Bonus – 1 CPM
Quarterly High Mileage Bonus - 1 CPM
Quarterly Safety and Performance Bonus - $500
Clean Inspection Bonus - $50
Driver Referral Bonus - $3,000

Paid via direct deposit weekly 
Perks
Fuel Surcharge is paid to driver based on DOE national average (currently around 25 - 30 CPM)

Both base pay and fuel surcharge are paid on all miles, loaded and unloaded

Stevens Trucking covers all expenses aside from fuel
Discounted truck insurance available:

Occupational Accident insurance ($37 per week)
Bobtail insurance ($11.50 per week)
Physical damage insurance (3% of the value of the truck divided out over 52 weeks)

$.15 per gallon rebate with Love's       
E-logs and Tags are provided by the company           
No trailer rental fee                                 
Cargo insurance covered by the company
Company pays for all tolls and scales
Home Time, Route and Schedule
Home Time: Weekend home time possible. Based on where you live you can expect to be home:

Every 6-10 days - Oklahoma City & Tulsa, OK
Every 1-2 weeks - Dallas & Houston TX & St. Louis, MO

Schedule: Varies; we will do our best to work with to meet your needs and desired home time
Route: Throughout the South (MO, OK, TX)
Level of Touch: No Touch Freight; 85-90% drop and hook only
Equipment Requirements
Must be 2000 or newer
Must be E-log compatible
Must be able to pass DOT inspection
.
This job search is being conducted by Drive My Way (www.drivemyway.com) on behalf of Company.
Click to Apply
Hiring Area By State
A
B
C
D
E
F
G
H
I
J
K
L
M
N
O
P
Q
R
S
T
U
V
W
X
Y
Z
a
b
c
d
e
f
g
h
i
j
k
l
m
n
o
p
q
r
s
t
u
v
w
x
y
Alabama
Arkansas
Arizona
California
Colorado
Connecticut
Delaware
District of Columbia
Florida
Georgia
Iowa
Idaho
Illinois
Indiana
Kansas
Kentucky
Louisiana
Massachusetts
Maryland
Maine
Michigan
Minnesota
Missouri
Mississippi
Montana
North Carolina
North Dakota
Nebraska
New Hampshire
New Jersey
New Mexico
Nevada
New York
Ohio
Oklahoma
Oregon
Pennsylvania
Rhode Island
South Carolina
South Dakota
Tennessee
Texas
Utah
Virginia
Vermont
Washington
Wisconsin
West Virginia
Wyoming
Click to Apply
DMV Record
| | |
| --- | --- |
| Hire a driver who has had their license suspended or revoked: | No |
| Hire a driver with a DWI or DUI: | No |
Click to Apply
More Driving Jobs at Stevens Trucking