OTR Company Driver - Guaranteed Pay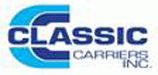 | | |
| --- | --- |
| Company: | Classic Carriers Inc |
| Phone number: | (937) 526-5100 |
| Driver type: | Company Driver |
| Equipment type: | Refrigerated |
| Job type: | ... |
| Miles per week / month: | ... |
| Compensation: | ... |
| Bonus: | ... |
| Home time: | ... |
Apply to Classic Carriers Inc
Take the next step in your trucking career today! Complete our safe, secure, and fast application process and apply to Classic Carriers Inc! Once you've completed your driver profile you can apply to additional truck driving jobs with a single click!
Required fields have been highlighted.
Sign In to Apply
About This Job at Classic Carriers Inc
Classic Carriers is hiring PROFESSIONAL CDL-A drivers!

Do you meet the following qualifications?
More than 2 years OTR experience in the last 3 years.
No more than 4 jobs in the last three years
No more than 2 traffic violations in the last 3 years
No more than 1 minor accident
A good CSA Score

If you do then you may be the driver we are looking for.  Classic Carriers is now hiring PROFESSIONAL CDL-A drivers who want to join one of the premier trucking companies in the country.  We offer top pay and benefits and treat our drivers as a person and not just a number in a truck.  

http:/drive4classic.com/

Up to 57 CPM base pay PLUS layover, detention, safety bonus, and more!

- Guaranteed minimum pay of $1100 weekly if available to run for 5 consecutive days
- $3000 sign on bonus and orientation pay
- Paid PC Miller Practical Miles

- Late model trucks
- PrePass and EZPass
- No fee pet policy
- Qualcomms with GPS
- Satellite radio and optional satellite TV in most trucks
- Rider policy after 90 days
- Consistent Home Time
- No NYC and no extreme Northeast
- Both manuals and automatics
- Low turnover
- No slip seating
- Take truck home during home time
- Relaxed orientation with most meals provided and your own room in a TripAdvisor rated 4.5 star hotel
- Be known by name not by truck number
- Apply today and start as early as next week!


Call with questions: 877-406-1421 or visit http:/drive4classic.com to learn more and apply! 
Click to Apply
Equipment Experience Accepted
Required Endorsements
None specified
Benefits
| | |
| --- | --- |
| Medical plan: | No |
| Dental plan: | No |
| Vision plan: | No |
| Retirement plan: | No |
| Profit sharing: | No |
| Stock purchase: | No |
Bonuses
| | |
| --- | --- |
| Bonuses for extra pickups & dropoffs: | No |
| Hiring bonuses: | No |
| Annual bonuses: | No |
| Mileage bonuses: | No |
| Safety bonuses: | No |
| Per diem: | No |
Click to Apply
Hiring Area By State
A
B
C
D
E
F
G
H
I
J
K
L
M
N
O
P
Q
R
S
T
U
V
W
X
Y
Z
a
b
c
d
e
f
g
h
i
j
k
l
m
n
o
p
q
r
s
t
u
v
w
x
y
Delaware
Illinois
Indiana
Kentucky
Maryland
North Carolina
New Jersey
Ohio
Pennsylvania
South Carolina
Tennessee
Virginia
Click to Apply
Driver Requirements
| | |
| --- | --- |
| Min. driver age: | 0 |
| Min. driving experience: | 0 months |
DMV Record
| | |
| --- | --- |
| Hire a driver who has had their license suspended or revoked: | No |
| Hire a driver with a DWI or DUI: | No |
General Program Offerings
| | |
| --- | --- |
| Paid orientation: | No |
| Spouse rider program: | No |
| Child rider program: | No |
| Pets: | No |
Pay Information for Company Drivers
| | |
| --- | --- |
| Pay for layovers: | No |
| Pay for breakdowns: | No |
| Pay for loading and unloading: | No |
| Pay for tarp: | No |
Click to Apply