2022 Influential Woman in Trucking - Blog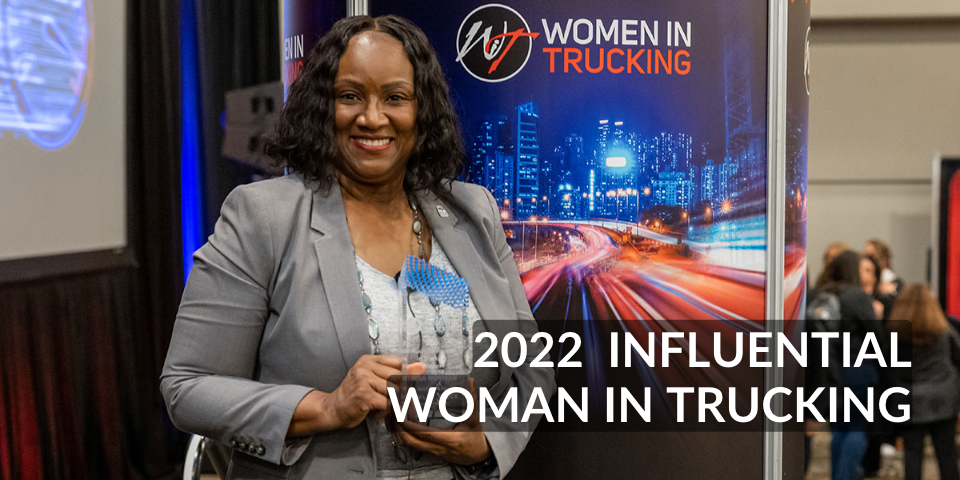 2022 Influential Woman in Trucking
Brandon Baxter - Staff Writer
Nov 21st 2022 8:00AM
The Women In Trucking Association (WIT) recently announced their winner of the 2022 Influential Woman in Trucking award, sponsored by Daimler Truck North America. This is the 12th year for the award which was developed in 2010 to recognize female leaders and to attract and advance women in the trucking industry.
The Women In Trucking Association (WIT) presented Trina Norman, Southern California Feeder Operations Manager, UPS, with the 2022 Influential Woman in Trucking award. This award recognizes the achievements of female role models and trailblazers in the trucking industry.
The winner was declared during the WIT Accelerate! Conference & Expo in Dallas, Texas. The announcement came following the panel discussion, "When Remarkable Women Do Remarkable Things." Panelists consisted of the finalists for the 2022 award: Jill Quinn, President, Centerline Drivers, Mari Roberts, Vice President of Transportation, Frito-Lay, and Lindsey Trent, President & Co-Founder, Next Generation in Trucking Association. The panel discussion was facilitated by Kelley Martin, Director of Strategic Pricing, Daimler Truck North America.
"While all four finalists were exceptional, Trina Norman stood out due to her passion in giving back to her community while supporting her team and her company as she leads them toward success," said Ellen Voie, WIT president and CEO.
Norman's employment with UPS spans three decades where she has proven to be a well-rounded leader and a global citizen. She is a member of Delta Sigma Theta Sorority, Incorporated, where she has served as an activity member for 24 years. She also mentors and sponsors young college students to achieve their academic goals while attending college.   
Her mission is to recruit, empower, mentor, and encourage women to join other elite women behind the wheels at UPS. In 2019, Norman helped to lead the charge and was instrumental in charting the first Women in Operations business resource group in Southern California. In honor of her leadership and game-changing methodology, she was granted the game-changer award in March of 2022. In April of 2022, she was the recipient of the corporate trailblazer award for both Diversity, Equity and Inclusion, and Women In Operations. In July of 2022, she was the recipient of the Visionary Leader Award for excellence in undertaking extraordinary efforts to enhance the operational experience.
Every time women take a step forward in the trucking industry, it should be applauded and encouraged. As the commercial trucking world continues to make strides in gender equality, it bares remembering that not too long ago this was an industry dominated by men. There's still work to be done but each step forward is progress in reassuring this industry is on the right path to growth.